11/05/13131313 - 5 years ago
Aishah Macgill
Visited 15276 times , 4 Visits today
Be Visible On Google Search With Authorship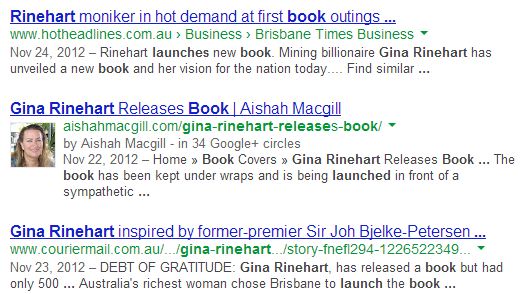 Would you like your image to show up beside your blog posts on Google Search? If you are in the business of getting known and selling more books, who wouldn't want to be more visible on Google?
Go ahead. Google my name and see what happens.
You will find me easily as I am the only Aishah Macgill on the planet, as far as I know.
But, that's not all! You will also see my photo on Google beside some of my posts.
I will show you how to do it. It's easy if you follow these instructions.
Two essentials are required for this to work properly.
1. A great author image
2. A website and email address of the same name
First of all, make sure you have an image of yourself of good enough quality to use. Head and shoulders shot is good. You must have a recognisable image of yourself for this process.
Secondly, you must have your domain name in use as an email address. If you have your domain, any domain, and a website operating using that domain name i.e. aishahmacgill.com, you must get this forwarded to your gmail as a verified email: i.e. aishah@aishahmacgill.com or info@australianwritersrock.com, whatever your domain name is.

If you do not have your own author/domain name or book name registered, I recommend you do it asap. I do not recommend using a free blogger site for promoting yourself or your books. It's a good starting point, but has restrictions down the track.
Follow these simple steps in this order as follows.
Open a Gmail account if you don't have one already

Open a Google

+ account and upload your profile with your details of your website and any information you wish to be made public.

Use an image of your face on Google+ you

want

splashed around the online multi-verse.

Fill out your Google+ profile and general information as per normal.

In your Google+ profile, find the section where it has the heading

Contributor to.

Click the

Edit

in blue text in this box and add your website address-s and save. You can add as many websites you wish.  However, for your authorship to be attributed to you, you need to have the matching email as your domain name.

Click on your newly installed link on Google+ in your profile to your blog to check it's working.

Go to this link  

https://plus.google.com/authorship

 

and submit any email addresses you have

Google will send you a verification link to your email to verify you own this email. Click on the VERIFY button in your email from Google+

Wait a couple of hours or anything up to weeks to see if your image shows up in Google search beside your posts. If your image doesn't show, go to this link, 

http://www.google.com/webmasters/tools/richsnippets

 and check your website address.

If you still can't see your author image in your blog posts on any Google search page and need some help, go to this link 

http://support.google.com/webmasters/bin/answer.py?hl=en&answer=13067
IMPORTANT!
Once all this is in place, every time you make a post, you must use your author name (the same name as your Google+ account) in your posts on your blog in every post. It must be exactly as it is on your Google+ profile for Google to index you as the author of the post.
See all my posts on this website; I make sure my name is on every post so Google's spiders can find my name using the authorship system:-
eg – by Aishah Macgill.  either at the top of the post or at the bottom of the page, it's your personal preference.
When you insert your author name into your blog post, you must highlight your name and link it to your Google+ account by doing this.
https://plus.google.com/u/0/104375345583136312018?rel=author
Get your Google+ link, take away all other digits after your number and add exactly as it is in red. This will link your name back to Google+.
---
See this image below from Google search? If you search for Gina Reinhart, book launch, (the richest woman in the world), you will find me indexed on her search pages! Along with my photo! All thanks to Google Authorship. It's well worth taking the time to set it up, guaranteed!
When I first wrote this post below, I came up on page 1 for Gina Reinhart on google! I stayed there for a couple of weeks. Why would I show up on page 1 on someone else's search who is so well known? The answer is simple:-
Google loves Google+!
Google loves to index and rank Google+ authorship. At the time of writing this, I have slipped back to page 5. But it's now 6 months later.
See my post below on Gina Reinhart's google search page and note that my image shows beside my post about her new book release.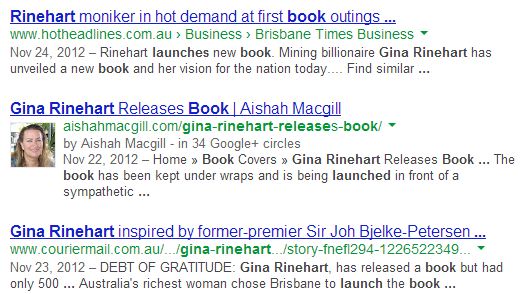 If you can't do any of this yourself, ask your web-master or web-mistress! Or drop me a line here.
A good place to register your own domain name is either with GoDaddy or Crazy Domains for com.au.
For hosting your domain, I recommend Hostgator. For a great wordpress template, start with checking out themes on Theme Forest or iThemes.
If you don't have your own author website/blog, contact me for further assistance.
To  find out more about my fab Book Publishing Packages, and how I assist authors to self publish their books in print and eBooks, and promote themselves on their own author blog, please visit my publishing website http://finitepublishing.com