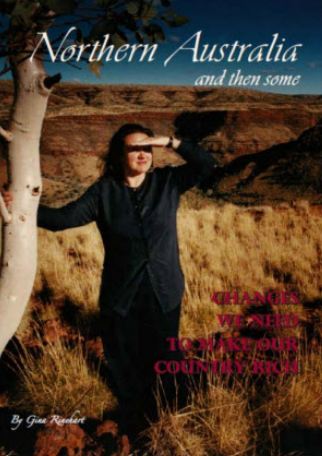 'Northern Australia and Then Some – Changes We Need to Make Our Country Rich' by Gina Rinehart.
Gina who?
If you don't know who Gina Rinehart is and you are Australian, you must be living in the dunny out the back! She is not only Australia's richest woman, she is, at time of writing, the richest woman in the world!
What do you think of the book cover?
Being a book cover designer, it looks like one notch up from an amateurish attempt from any self published author. A self made cover. Maybe she did do it herself? Some of the text is way too small and almost impossible to read against the background.
Obviously, she didn't get one of her children to do it for her. If you don't already know about the infamous rift between her and her children, you must be living in the outback somewhere, with no TV, no internet and no friends to gossip with.

I'm surprised the richest woman in the world would have such an amateurish looking book cover. Is it a reflection of her taste? Granted, it's a nice photo for the family album, but the text elements are just not exciting.

Why then, would she write a book? She's obviously not doing it for the money. I feel it's probably more politically motivated than anything else. The book has been kept under wraps and is being launched in front of a sympathetic crowd of fellow business contacts. The launch invite states:
"The date is special, being the 60th anniversary of Lang Hancock's important flight in his Auster, together with his wife, Hope, when he first discovered the massive iron ore deposits in the Pilbara, on November 22, 1952."
I am curious to see what's inside.
Gina Reinhart has made herself more famous of late for her own gaffes. The most famous being on a video she uploaded to YouTube. On it, she suggested the Australian government should lower the minimum wage, citing the ludicrous example of African labourers, who she claimed are willing to work for $2 a day.
Will keep you posted with more book cover faux pas.
For more about bookcovers, click here.