20/12/12121212 - 5 years ago
Aishah Macgill
Visited 4321 times , 1 Visits today
I Made an Amazon Best Seller List!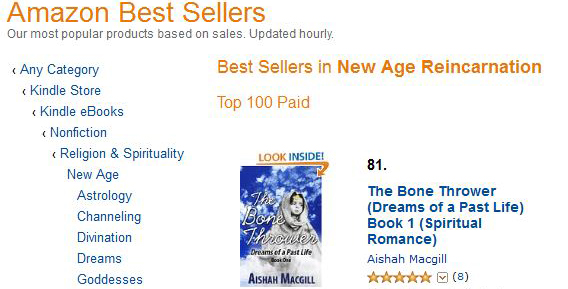 Break out the bubbly! Yesterday evening, I made it to an Amazon best seller list! It is in a niche list, but nonetheless, I am over the moon. I hit number 81 in the New Age-Reincarnation category. I was just behind Shirley McLaine, the actress. Shirley is an author I have read and admire greatly.
The book that ranked is the first in a trilogy of books I have been working on; The Bone Thrower, Dreams of a Past Life. As if you haven't noticed, it's splashed all over my website! To be listed on Amazon in the top 100 of any niche is a dream come true. Hopefully, I can post one day soon that I am in the top 10 or maybe even number 1?

I have not had a book launch yet as I am waiting until I have finished book 2, The Bone Whisperer. I plan to offically launch 3 books simultaneously, perhaps 4? You are all invited to the launch, which I plan will be in March 2013.
I had better get back to work to get them all ready in time!
If you would like to read the first book in the series via kindle, please click here and you can read a teaser by clicking on 'look inside'.
For more Kindle Publishing Tips, click here.